You receive personal, one-on-one guidance from our team of fully-screened, licensed professionals, as well as a full range of health care services.
Dedicated home health care enables you or your loved one to remain at home while recuperating from illness or injury, instead of experiencing a prolonged stay in a hospital or nursing care facility. You receive personal, one-one-one guidance from our team of vetted, licensed professionals, as well as a full range of health care services.
If you prefer to recover in the comfort and privacy of your own home instead of an institutional setting, Arista's home health care services can help you.
Home Health Care in Toledo, Ohio
Recovering from a surgery or maintaining health after a hospital discharge or diagnosis of a medical condition can be difficult, especially when you or your loved one must do so at a healthcare facility or institution.
Too often, such facilities can seem impersonal, and the care received there must be managed along with hundreds of others.
At Arista Home Care Solutions, we are committed to providing a wide range of personalized home care services to residents of Toledo and the surrounding areas.
We realize how important it is that you or your loved one can recuperate or manage your care at home.
We understand that home is where you are the most comfortable and stand the best chance at recovery.
However, you can't recover alone, and friends and family typically don't possess the certified healthcare skills necessary to provide proper care for you.
In these situations, the services of a home health care professional are essential to help you maintain your health and prevent further stays in a managed care facility.
Home Health Care Services
Arista's quality home health care services include but are not limited to:
Skilled Nursing
With dedicated, skilled nursing care, a registered nurse or licensed vocational nurse will take over all elements of your or your loved one's health. From personal and hygiene care to more advanced nursing techniques like respiratory therapy, IV, and wound dressings, a licensed, trained nursing professional will assist with all daily needs.
Physical Therapy
After a surgery or other incident that affects mobility, a licensed physical therapist is often required to provide the treatment needed to regain lost mobility. Physical therapy often includes home exercise programs, pain management, muscle and orthopedic therapy for those recovering from surgery, sports, or other injuries.
Post Covid-19 Home Therapy Program
Physical complications after Covid-19 can persist for months or even years, and include impairment in muscle strength, heart and lung capacity, pain, balance, endurance, and walking ability leading to a loss of function and independence.
We offer a skilled multi-disciplinary approach to maximize outcomes and decrease re-hospitalization.
Occupational Therapy
Occupational therapists help you or your loved one regain self- sufficiency after an accident, surgery, or hospitalization. Services can include home exercise training, range of motion exercises, visual coordination, home safety training, and independent living training, among others.
Speech Therapy
After an incident, surgery, or hospitalization, speech therapists can help restore communication between you and your loved ones, as well as provide important oral and aural services. Services such as dysphagia (swallowing) therapy, hearing rehabilitation, eating strategies, home language training, ASL training, and adaptive device training may be provided.
Parkinson's Home Health Program
Specialized therapy for those living with Parkinson's Disease including patient and family education on successful disease management; establishment of safe and progressive home exercise plan; monthly Parkinson's e-newsletter, and timely follow-ups to monitor for disease changes.
Arista At Home Health Care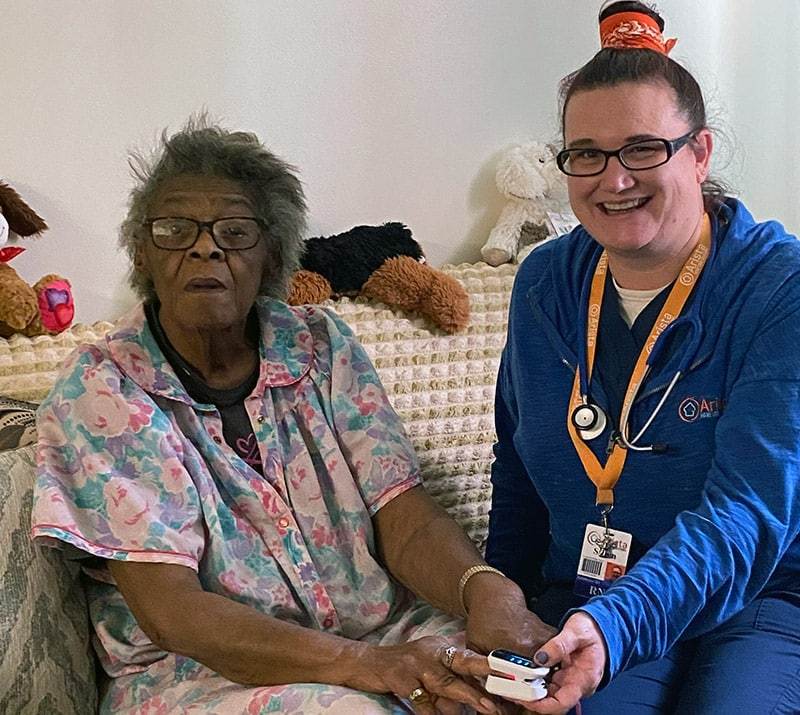 When you or a loved one experience difficulties related to surgery, hospitalization, significant health change, or diagnosis of any kind, you'll need care from a number of professional health care providers.
Arista provides those services for you in the comfort of your own home so that you can recuperate and maintain your health away from an institutionalized setting.
At home with Arista, you'll enjoy a familiar environment as well as maintain your own, personal routine.
Our health care professionals are fully licensed, trained, and vetted, as well as bonded and insured. We take your health care and comfort seriously and are committed to ensuring that you receive the personal attention you deserve.
To receive an initial free assessment, complete the following form and a representative will contact you shortly.
"*" indicates required fields